Tyrown Waigana is the winner of the prestigious National NAIDOC poster competition for 2020.
A proud Noongar and Saibai Islander man, Tyrown's mother's heritage can be traced to the Wardandi people of the Noongar nations and his father's side is Torres Strait Islander from Saibai Island.
Tyrown is passionate about visual arts and enjoys painting, illustration, animation, sculpture and graphic design. This led him to pursue a Bachelor of Arts and he now runs his own brand and business called Crawlin Crocodile.
His passion for art began at his nan's house from a very early age.
'My family members designed, carved and burnt etchings into digeridoos for decoration.' Tyrown said.
'They also did drawings and paintings and there was always something creative happening.'
Tyrown was inspired by this year's NAIDOC Week theme, Always Was, Always Will Be, to create the artwork, named 'Shape of Land'.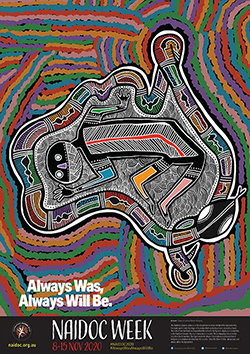 This artwork depicts the Rainbow Serpent coming out of the Dreamtime to create this country and how we are strongly connected to it.
'The Rainbow Serpent is represented by the snake and it forms the shape of Australia, which symbolises how it created our lands' Tyrown said.
'The colour from the Rainbow Serpent is reflected on to the figure to display our connection to the Rainbow Serpent, thus our connection to country. The overlapping colours on the outside is the Dreamtime.'
'The figure inside the shape of Australia is a representation of Indigenous Australians showing that this country - since the dawn of time - always was, and always will be Aboriginal land.'
Tyrown has entered the NAIDOC Poster competition in the past and was surprised to learn he had won the NAIDOC Poster competition for 2020.
'I didn't think I was going to win because there are so many talented artists that enter.'
When reflecting on this year's NAIDOC theme 'Always Was, Always Will Be' Tyrown thinks about the spiritual connection Aboriginal and Torres Strait Islander peoples have to this land.
'It means this is our physical and spiritual home. Long before other people came here and long after they're gone, we were here and will be here.
For Tyrown, NAIDOC Week is an important opportunity to 'share our culture with non-Indigenous people'.
'It's a time to let our culture thrive, show how strong it is and allow it to be at the forefront of the Australian conversation.'
While COVID-19 restrictions have limited public events this NAIDOC Week, Tyrown is keen to attend some of the NAIDOC events occurring in his hometown of Perth.
Watch the video below to listen to Tyrown share the story behind his artwork, 'Shape of Land'.
The National NAIDOC Week poster and associated resources are also available for download.