2019 NAIDOC Poster
The 2019 NAIDOC Poster will be released in early May 2019.
2018 NAIDOC Poster
The 2018 National NAIDOC Poster was designed by Cheryl Moggs, a Bigambul woman from Goondiwindi. Cheryl drew on the history, courage and resilience of Aboriginal and Torres Strait Islander women to educate others. The artwork (tarmunggie – Woman) has three overlaying images, connecting dreamtime, culture and knowledge.
The 2018 National NAIDOC Poster is available to help you celebrate NAIDOC Week.The poster is available to download: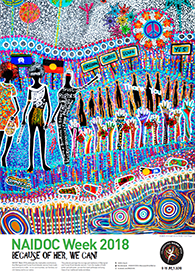 Conditions of use
By using the poster, you are agreeing to the terms and conditions set out below under the Creative Commons License. In addition, the poster:
must be used in its entirety, as supplied. An alternative version using the graphic and text elements is not to be produced.
cannot be used for commercial purposes. Commercial purposes include use of the poster on any promotional material that is used to make a profit.
must be attributed as 2018 National NAIDOC Poster.
Except where otherwise noted, the 2018 NAIDOC Poster is provided under a Creative Commons Attribution-NonCommercial-NoDerivatives 4.0 International License (CC BY-NC-N4 4.0). The details of the relevant license conditions are available on the Creative Commons website with the full legal code available here.