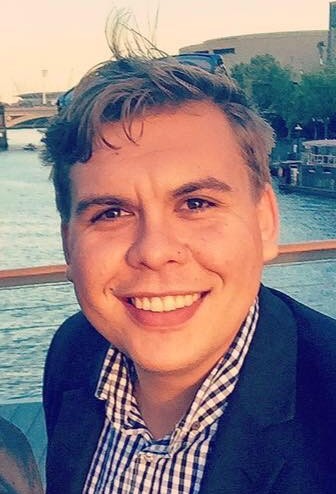 The 2019 National NAIDOC award nominations are currently still open!
As part of the National NAIDOC Committee (NNC) I took a moment to reflect on why these awards are so important. Do awards still matter? Does the wider community pay attention to them really?
The answer I came to was a resounding "YES".
NAIDOC awards purpose is clear. We recognise the outstanding contributions that Indigenous Australians make to improve the lives of Indigenous people in their communities and beyond, to promote Indigenous issues in the wider community, or the excellence they've shown in their chosen field.
It's about telling the inspiring, compelling and achieve against all the odds stories, our way.
It's an opportunity to reflect. All too often, we operate in a bubble, rarely lifting our heads up long enough to take a breath. The talent across our communities is great with many people, community groups and business owners doing amazingly creative and innovative things.
When we take a moment, who knows the collaborations and potential that that can be unleashed.
"There is much to celebrate when we reflect on the great work being done across generations by our women, men, youth and elders. We must recognise that our very survival in this country is a testament to our strength as a people. NAIDOC provides us with an opportunity to nominate, and as a nation collectively thank, those who are tirelessly contributing to the benefit of our communities.
Receiving the 2018 NAIDOC Person of the Year Award was an absolute honour, an accolade that I accepted on behalf of the strong and tenacious women who have come before me. I encourage us all to take advantage of this opportunity to reflect upon the unique and diverse efforts, talents, gifts, knowledge, courage and grace of those among us and put forth nominations to celebrate and recognise all of who we are, and always have been".
– June Oscar AO.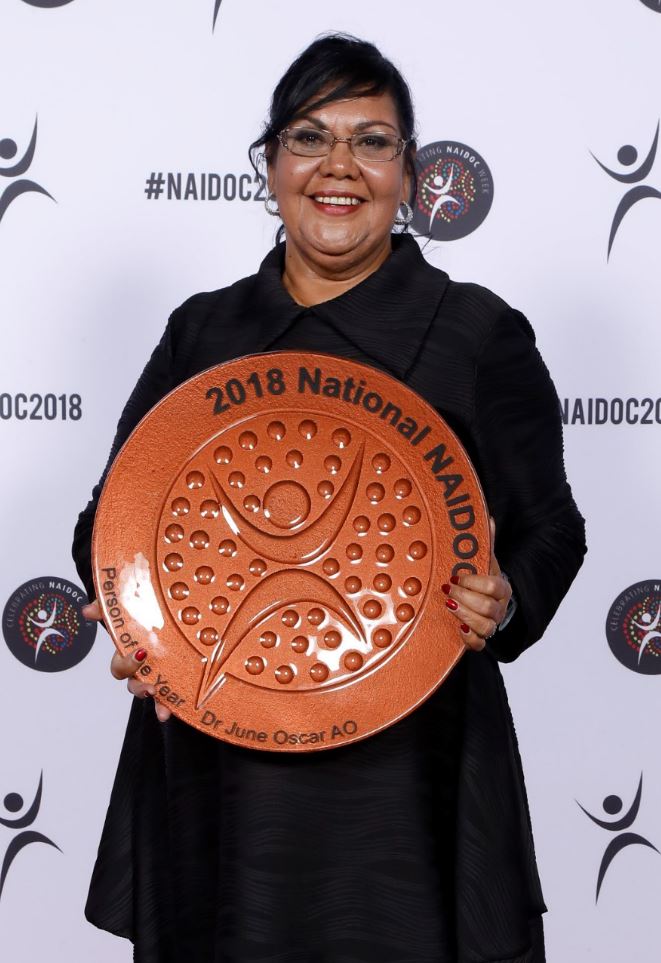 A little bit of health competition isn't bad. It stands to reason you won't achieve greatness unless you strive for greatness. Creating a culture of doing award-winning work provides a little bit of a push to be more creative, go the extra mile, and deliver the best possible outcomes for our people.
But NAIDOC awards are not about bragging rights, it's the opportunity for formal recognition that celebrates our diverse black excellence together.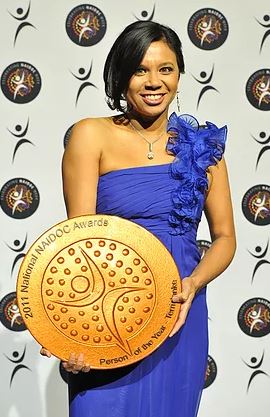 Wuthathi/Meriam woman and 2011 NAIDOC Person of the Year Terri Janke says, "Winning the NAIDOC Person of the Year was the best accolade ever. To be valued by the Indigenous community for your work and contributions gave me such pride, and strengthened me to continue with my goals".
If someone in your community deserves to be recognised then nominate them for a 2019 National NAIDOC Award!
Complete the online entry form to nominate someone who you think deserves to be recognised.
Entries for the National NAIDOC Awards close on 5pm (AEDT) Friday 29 March 2019.