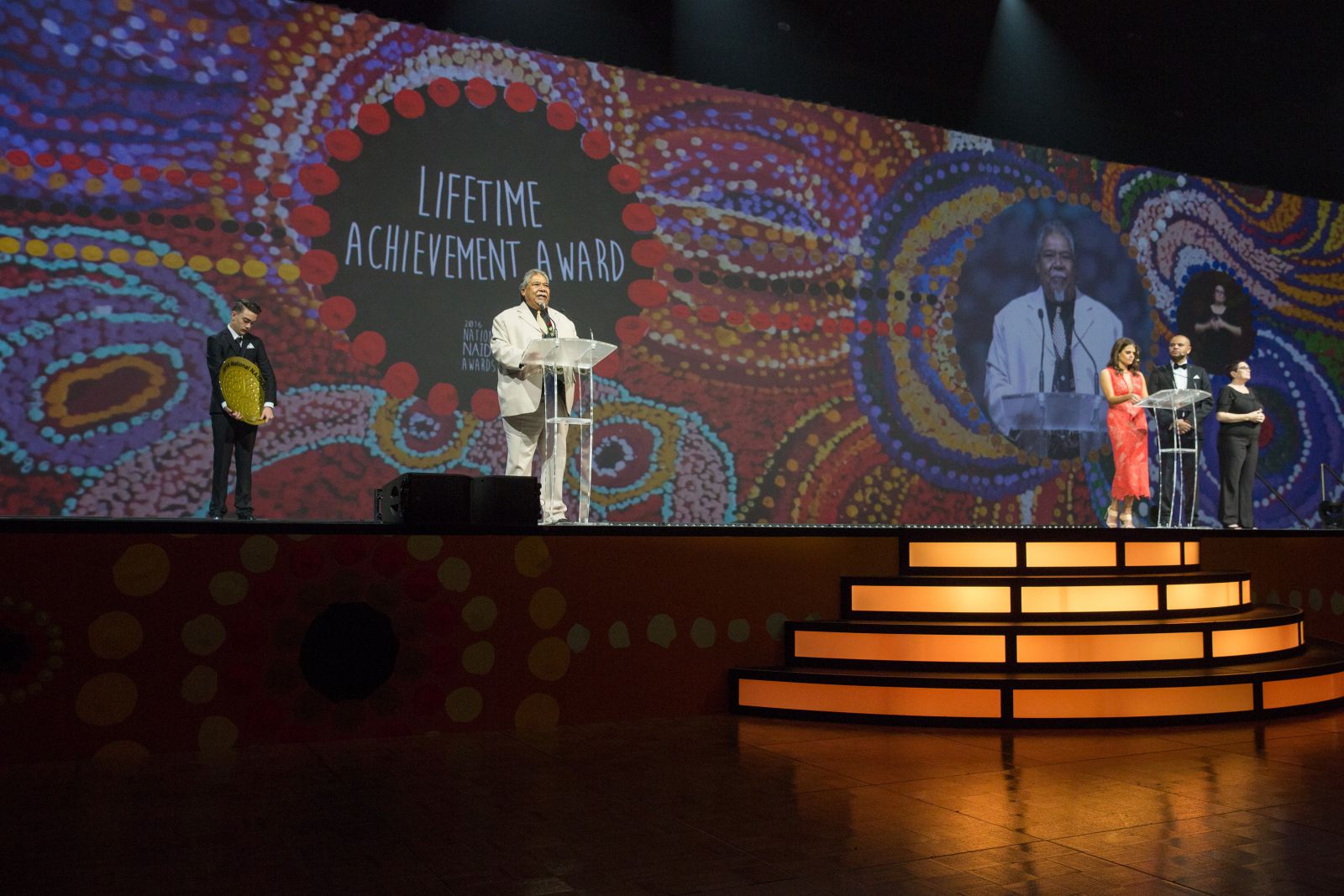 The annual National NAIDOC Awards Ceremony recognise the outstanding contributions that Indigenous Australians make to improve the lives of Indigenous people in their communities and beyond, to promote Indigenous issues in the wider community, or the excellence they've shown in their chosen field.
We proudly highlight our national winners, we learn of their journey, their inspirational story and we pay tribute to their achievements. Their work enriches our communities, our people and this nation.
These Awards celebrates excellence, builds towards a better future and reminds us of this nation's 65,000-year-old history.
Each year the winners of the National NAIDOC Awards will be announced in the following categories:
Lifetime Achievement Award
Person of the Year
Female Elder of the Year
Male Elder of the Year
Caring for Country Award
Youth of the Year
Artist of the Year
Scholar of the Year
Apprentice of the Year
Sportsperson of the Year
To view all National NAIDOC Award winners visit the winner profiles.
You can nominate someone for a National NAIDOC Award.
2018 National NAIDOC Awards Ceremony Sydney

Every year the National NAIDOC Awards Ceremony is held in a nominated national focus city as a focal point of the National NAIDOC Week. The 2018 National NAIDOC Awards Ceremony focus city is Sydney.
The 2018 Awards Ceremony will be held on Gadigal land on Friday 13 July at the International Convention Centre, Darling Harbour.
This will coincide with 80th Anniversary of the Day of Mourning which was first held on Gadigal land in 1938. View our history timeline for more details.
Tickets to the 2018 National NAIDOC Awards Ceremony were hot property and sold out in record time. Catch all the action of the National NAIDOC Awards Ceremony as it's broadcast live on NITV (Ch. 34) Friday 13th July at 7.30pm or on NITV On Demand.
The 2018 Awards would not be possible without the continued sponsorship from the Australian Government, and the Commonwealth Bank. The National NAIDOC Committee also acknowledge the valued sponsorship and support from KARI Foundation, Equity Trustees, Telstra, Inside Policy, Lush, our official airline partner QANTAS, media partner Koori Mail Newspaper, the official accommodation partner AccorHotels and the principal media partner NITV. 
Together and with their support, the National NAIDOC Awards remain the most significant and anticipated event on the National Indigenous calendar, and the longest running and only truly national Indigenous Awards of its kind.
To view photos from the 2017 National NAIDOC Awards Ceremony held in Cairns visit our Photo Gallery.