2022 National NAIDOC Week Poster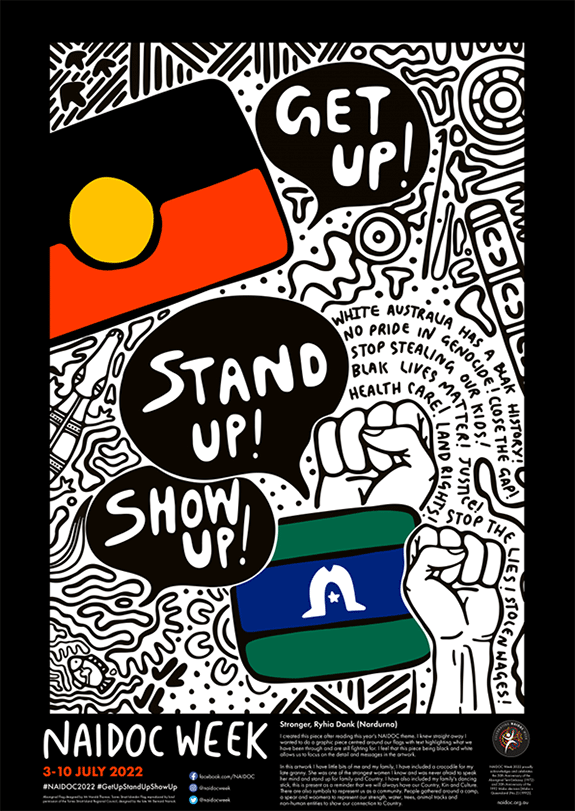 Ryhia Dank, a young Gudanji/Wakaja artist from the Northern Territory is the winner of the prestigious National NAIDOC poster competition for 2022 with her entry, Stronger.
"I created this piece after reading this year's National NAIDOC Week theme – Get Up! Stand Up! Show Up! I knew straight away I wanted to do a graphic piece centred around our flags with text highlighting what we have been through and are still fighting for" said Ryhia. "I feel that this piece being black and white allows us to focus on the details and messages in the artwork"
Meet Ryhia and learn more about her storywork by watching this video: 
Download your copy today!
2022 NAIDOC Poster Print Version [PDF 1.03 MB]
2022 NAIDOC Poster Electronic Version [PNG 491 KB]
2022 NAIDOC Poster Electronic Version [JPG 412 KB]
Please note when printing the poster set your print settings to the size of the paper you are printing on in order for the poster to print to size.
---
Except where otherwise noted, the 2022 NAIDOC Poster is provided under Creative Commons Attribution-NonCommercial-NoDerivatives 4.0 International License (CC BY-NC-N4 4.0). The Poster must be used in its entirety, as supplied. An alternative version using the graphic and text elements is not to be produced. The Poster must be attributed as 'The 2022 National NAIDOC Poster incorporating the Aboriginal Flag and the Torres Strait Islander Flag (licensed by the Torres Strait Island Council).'